Our wonderful colliery bands and more
Visit the displays and talk to local historians
Enter your dog into our Fun Dog Show. Starts at 12pm
Welcome
Message from KMF Joint Chairs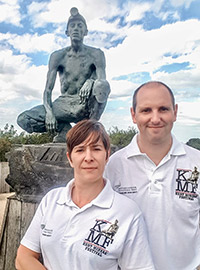 We would like to take this opportunity to give our sincere thanks for your support and involvement in the 2017 Kent Miners Festival, which was held on Bank Holiday Monday 28th August, at Betteshanger Community Park. We feel that everyone who took part helped make it a complete a success, which was due to your participation and we hope that you felt it went as well as expected.
This was the eighth festival has been held, since it began back in 2009, but it was the first year that we have hosted the festival since becoming the co-chairs. I don't think anyone can deny the weather contributed towards the large number of visitors we saw at the festival, but regardless of that we still believe it would not have been as successful without your presence.
The new committee is now planning the 2018 Kent Miners' Festival to be held once again at Betteshanger Community Park on Bank Holiday August.
Colin Varrall and Imogen Balderston
Co-Chairs of the Kent Miners Festival
---
CONTACT THE FESTIVAL ORGANISERS
Tel. 07526095984
Email: kentminersfestival@outlook.com
---