Message from KMF Joint Chairs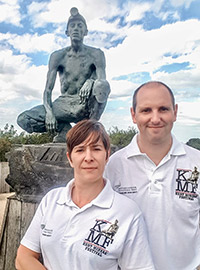 Kent Miners' Festival co-Chairs, Colin Varrall and Imogen Balderston, look forwards to seeing you at this year's festival on Monday 27th August. The festival is again being held on the former site of Betteshanger Colliery. This year's event has special displays and exhibits to commemorate the Armistice of the Great War 1914 – 1918, and explain the work and skills of the miners, who were recruited into the Royal Engineers, as part of the allied Tunnelling Companies, with the aim of digging tunnels under the German trenches.
This year will have the privilege of Andrew Robertshaw, one of the UK's most exciting military historians, opening this year's Kent Miners' Festival. He is a world renowned expert on the events of the Great War, trench warfare, and medicine in the trenches will be explaining the involvement of the mining community with the heritage of the Great War 1914 –1918.
A colleague and friend of Andrew Robershaw's is Colin Winn, who will also be present for the day and will be speaking with visitors to explain about some of the military items he has brought to the festival.
As well as the contribution of our visiting historians, and displays from our own Aylesham, Elvington and Eythorne heritage centres, we welcome back the Snowdown Colliery Band, Aylesham Ladies Choir, Hersden Majorettes, and Arkwright's Clog Group to entertain us. The annual Coal Queen competition will take place in the clubhouse and our ever-popular fundog show is taking place from noon with entries taken on the day at the festival, near the club house.
Colin Varrall and Imogen Balderston
Co-Chairs of the Kent Miners Festival
---
CONTACT THE FESTIVAL ORGANISERS
Tel. 07526095984
Email: kentminersfestival@outlook.com
---