The Health and Wellbeing Marguee has displays from local organisations, charities and housing associations to provide help and advice to festival visitors.
If you are interested in having a stall to promote the work that your group does or the services that you can provide to the local community for the 2018 KMF then email Chris Tough.
---
Trudy's Wheels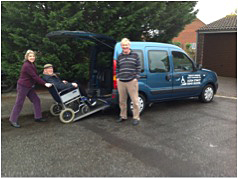 TRUDY`S WHEELS is a specialist Kangoo vehicle to support those who would like to reduce their isolation but because of personal disabilities are unable to attend functions/clubs/hospital or just going shopping or visiting a friend.
This is a local service to people living in a radius of 1.5 miles of Deal centre.
We would like to offer this service free but to cover the vehicle maintenance and running costs we ask for a donation when the vehicle is being used, the vehicle comes with a volunteer driver or should you wish have your own named driver that can happen too.
The vehicle has a rear access platform to support and secure a wheelchair and occupant and up to two friends. This service will be available on Bank Holiday Monday to help people visit the festival. It must be pre-booked so please call 07939 62637 for more details.
---