The Kent Miners' Festival is made possible by a team of volunteers, led by the festival committee. A great deal of behind-the-scenes work is needed to make sure this Event is a success. Careful planning and many hours of hard work, takes place ahead of the event, as well as attention to detail on the day. Some of the 2018 team are listed below:
---
Gary Cox
President
I was born into a Mining family, with both Grandfathers, Father, many uncles and cousins, all being miners.
I still live in the same street that I was born in and I still belong to that big mining family.
Many from our miners' family are no longer with us and many more will follow, mainly due to the conditions that they had to endure, working in our mines here in Kent.
Moving the Miners Statue onto the Miners Way Trail was just the start of preserving our Mining Heritage. This festival is another cog in the wheel of keeping our Heritage alive. We must not let their struggles through life be forgotten or allow our Community Spirit to die along with them. The story of the Kent Miner is not finished yet.
The flame is still burning. Never let it die.

---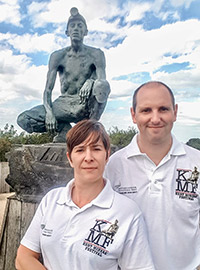 Colin Varrall & Imogen Balderston
Joint Chairs
Colin is the son of a Tilmanstone Miner. Mixing his daytime job of being a paramedic, with being a lifeboat volunteer, writer and historian of local community life, past and present, does not leave him much time but somehow he manages to help with organising our community festival. Colin is fast becoming a well-known figure in our mining communities and he is making a big difference where it is needed and is a valuable member of this team.
Imogen currently works on Elizabeth Ward Victoria hospital deal as a Health Care Assistant (HCA), prior to this I was a licensee running pubs and hotels, and still have my licence. I have been in the catering trade since the age of 11.
I have 1 daughter whom is 17yrs old and will be training to be a nurse soon at university. I love tunnels, caves and abandoned buildings and try to get in and snoop around. I enjoy cycling and long walks, generally anything outside. I am quite willing to try any sort of activity like caving, gliding, mountain climbing etc..
I have moved home many times in my life and don't have many records or photos left of my upbringing, this is why I enjoy helping others discover theirs through the Heritage group.

---
---
John Kemp
Events & Site Manager
---
Clive Luckett
Stage Manager
---
Chris Tough & John Worthington
Organisers of the Health & Wellbeing Marquee
Member and Community Advocate (free advice service) of the Betteshanger Sports Social Welfare Club. A former Deal Town Council Mill Hill Ward Councillor. Director of 'Trudy`s Wheels', a charitable project to serve those wheelchair Bound visitors with specialist transport needs to reduce isolation and increase community cohesion. A Former Trustee to the Citizens Advice Bureau. Now seeking to regenerate East Kent Youth in Europe projects. We aim to use our experiences to help community groups to reach the expected 10,000 visitors to the festival.


---

Jim Davies
Betteshanger Heritage
Jim Davies. Last Miner in Kent. Historian and founder of the Miners & Friends Reunion at the Festival.
Steeped in mining, rugby and socializing within the mining community for many years now, he is well liked and a well respected members of our community and our team and is a great ambassador for the Miners of Kent.

---

Ross Llewellyn
Chislet Heritage
I come from a coalmining family originally from S Wales my grandfather, father, uncles and my brother all worked in the mines I was born in Hersden in 1938 the village would have only been in existence for 9 years.
I entered the coalmining industry straight from school and started my basic training at Betteshanger on the 7th September 1953, 5 days after my 15th birthday, on completion of the training I moved to Chislet Colliery working mainly on haulage, in 1955 I left the industry and went to sea returning to Chislet in 1959 after two years my turn came to do my coal face training after which I joined a front ripping gang where I stayed until the closure of the colliery in July 1969. In August I transferred to Tilmanstone colliery where I was deployed to a mechanised face team eventually becoming a face charge hand. In 1978 I did my schooling at Canterbury College becoming a deputy in June 1978. Served as a committee member for 4 years of Tilmanstone branch of NACODS eventually leaving the industry in June 1986. Worked in the motor industry as a transporter driver for 8 years followed by 3 years at a Canterbury College as a minibus driver retired in 1999 on incapacity. A this point I started my research and collection of photos and memorabilia of Hersden and Chislet Colliery and in 2003 with the help and finances of the Society of Sturry Villages I published my book "Hersden Chislet Colliery Village" Became the Chislet representative of The Coalfield Heritage Initiative Kent in 2004.

---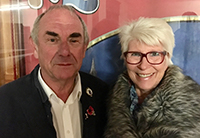 John & Rosemary Trickey
Kent Coal Queen Competition Orgaisers
---
Beech Grove Community
Thanks also to the Beech Grove Community from Nonington who will be providing stewards for the day. Available on their stand will be free copies of the new book 'Their Name is Today: Reclaiming childhood in a hostile world' by Johann Christoph Arnold.
---
Anita Luckett & Andrew Denyer
Promotions, programme design and website

Live Heritage CIC have been pleased to put together a design and print packages for the Festival since 2012 and also manage the festival website.
Live Heritage is a not-for-profit company that brings together the educational, photographic and web expertise of Andrew Denyer and Design for print, website design and community arts experience of Anita Luckett. Live Heritage offers assistance with and complete project management of community projects including marketing, design, workshops, education packs and events.

---